I'm a little late on my post for homemade applesauce. Tech issues and an over-booked calendar can take its toll on anyone.
I'm not complaining, it's just that I missed my computer. I don't know why, I guess it's just something to do instead of snacking.
I never realized how much I don't eat when I'm at the computer. It's like my best friend telling me not to eat that handful of candy.
I digress. I'm finally getting around to posting my homemade apple sauce recipe from our apple picking outing a few weeks ago. The recipe is simple and not anything you haven't seen before, and it's not a recipe handed down for generations - although I bet my great uncle and great grandmother would have made their apple sauce this way.
Growing up in the '50's I spent many summers and early fall weekends on my uncle and great grandmother's farm. They would cook and bake using the ingredients they grew and raised on their farm. Apples were in abundance from the mini orchard they had (about 10 trees as I remember).
I do remember my sister and I enjoying hot apple pie with a warm glass of milk (don't ask -- o.k., we never knew it was goat's milk until we were adults). Anyway it was a memory my sister and I will never be able to replicate but we cherish every moment each time we talk about it.
Homemade apple sauce is really simple to prepare. Peel, slice and chop apples, cook, mash, taste and season, done! Here's a basic recipe to help you along. Actually, this is my daughter's recipe that she adapted to our family's preferences. You can do the same.
Homemade Apple Sauce
Ingredients
12 - 16 apples (use sweet apples rather than granny smith)
1/2 cup fresh squeezed orange juice
1 tsp. lemon zest
brown sugar (as needed)
1/2 teaspoon ground cinnamon (optional)
pinch of nutmeg (optional)
Directions
In a saucepan, combine apples, juice and lemon zest. Cook over medium heat until the apples are soft. (15-30 minutes depending on how many apples and how small you chopped the apples)
Remove from heat and let cool.
Using a potato masher, or a food mill, mash the apples until desired consistency. We like If you like a chunky apple sauce the potato masher works fine. If you like a smother applesauce then the food mill will be the tool to use.
Taste the apple sauce and add any sugar and spices as desired.

Once you make your own applesauce you will never go back to buying apple sauce off the supermarket shelf.
This recipe is listed on Friday Potluck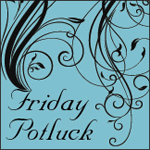 Mangia!
Winelady Cooks